KINDER 2
FOR CHILDREN FROM 6 TO 12 YEARS OLD
The awesome pleasure of sharing a passion with kids!
Size : One size only
Weight: 1950 g

ROBUST, SIMPLE, AND VERY COMPACT.
MULTIPLE ANCHOR POINTS
The Kinder 2 is a tandem harness for children from 6 to 12 years old.
It has several adjustments to perfectly fit the child's body shape.
The harness has an EN and LTF certified foam bag protection.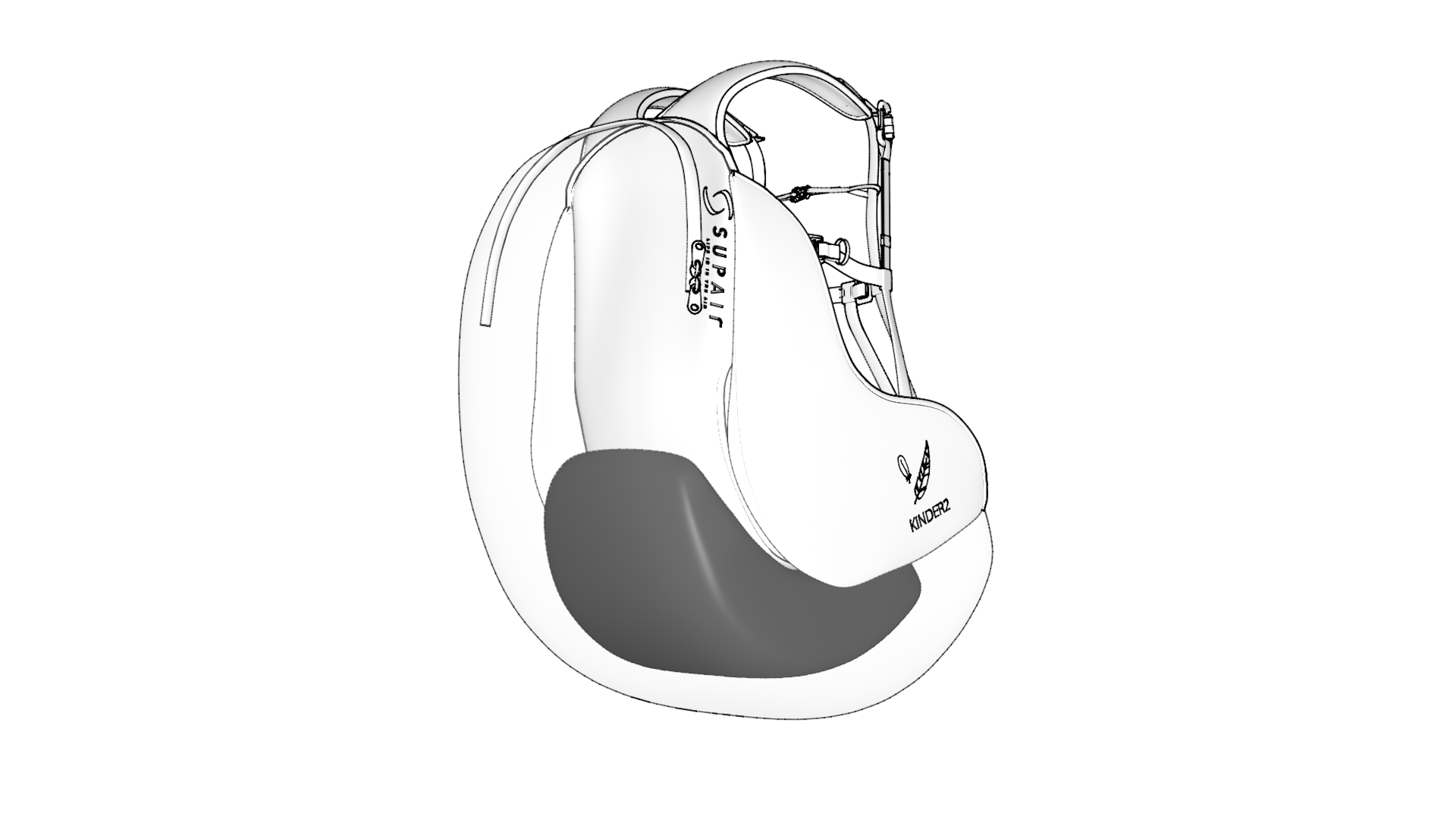 Compared to the KINDER, the KINDER² has a two-point locking system, which is faster and safer to close. It has two anchor points to position the passenger at the right height for the pilot, depending on the type of spreader bars used.
SAFETY :
A – BUMPAIR 15 cm
B – DORSAL STORAGE POCKET

CHARACTERISTICS :
Piloting
Tandem passenger
Body posture: upright
Safety
Specific Bumpair 15 cm
Two frame buckles
30 mm Self-Locking Biners
Comfort
Mesh 3D backrest
Storage
Large dorsal storage pocket
Adjustments
Shoulder straps adjustments
Chest strap adjustment
Adjustable backrest support incline
Materials
Tissu polyester 210 D
Sangles PES et PA
Certification
Norme EN 1651 – LTF
MEASUREMENTS :
| | | One size only |
| --- | --- | --- |
| | Passenger size (cm) | 115–160 |
| | Passenger weight (cm) | 50–65 |
| | Complete harness weight (g) | 1950 |
| A | Backrest height (cm) | 58 |
| B | Backrest tilt adjustments (cm) | 33 |
| C | Seat depth (cm) | 28 |
| D | Seat length (cm) | 34 |
| E | Hooking point height (cm) | 34-49 |
| F | Length between the hooking points (cm) | 32–42 |
COMPOSITION :
This harness is delivered with the following accessories :
– 2 mousquetons auto Zicral SUPAIR 30 mm
– Specific Bumpair 15 cm LTF certified
– Polypropylene seat plate