EVO LITE
EASY TO USE, PERFORMANT AND LIGHT
The Evo Lite is the harness made to safely progress toward more ambitious and longer flights.
The optional Speedbag is fully adaptable to the harness, enabling a progression toward performance flying in all aspects of safety and comfort, and serves to keep the pilot warm in lower temperatures.
Sizes: S / M / L / XL 
Weight: 3700 g (Medium)
BUMPAIR 17 XC FOR PASSIVE SAFETY
LIGHT WITH OPTIONAL SPEEDBAG
The EVO LITE comes from the EVO XC3. It is lighter and has the similar classic ABS (Anti Balancing System) with the leg and chest strap buckles in addition to the Safe-T strap.
The three key points guiding this new development are:
– To lighten the harness in comparison to the EVO XC3: 900 gr
– Keep a high level of passive safety
– Three-point fastening with the ABS (Anti Balancing System) included
Complete safety with BUMPAIR 17 XC, Anti Balance System (ABS), leg straps with Safe-T system, and a well-located/easy-to-access reserve parachute pocket
During takeoff, the transition from running to sitting is obvious and natural. The harness geometry and adjustments enable greater adaptation to body contours and onboard flight postures: The backrest can be straightened up or reclined, especially when using a footrest or a speed-bag. The seat extension enables adjustment support at the front of the plate. An adjustment permits adjustment the seat depth to the pilot's morphology and posture.
SECURITY :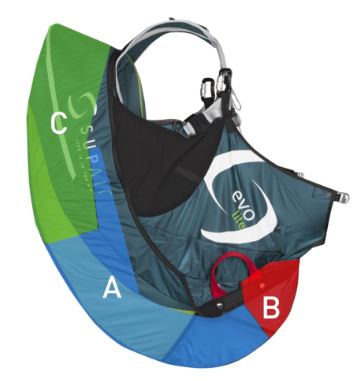 A – BUMPAIR 17 CM XC
B – RESERVE PARACHUTE POCKET (RIGHT SIDE)
C – STORAGE POCKET
PARACHUTE :
CHARACTERISTICS :
Piloting
Local sites, cross (XC)
Seating posture : Upright/Semi-inclined (with foot-rest)
Safety
BUMPAIR 17 XC
Volume adjustable reserve parachute pocket under the seat with right sided handle and deployment sequence
25 mm self-locking buckles (light)
Safe-T-Bar strap system
Anti Balance System
30mm self-locking carabiners
Gear / comfort
Speed-bar/accelerator pulleys
Speed-bar/Accelerator guiding sleeve alongside the seating area
Pre-equipped for foot-rest (short retractable 20-mm foot-rest) (Foot-rest : option)
Elastic speedbar keeper
Pre-equipped to accept the hydration pack
Pre-equipped to accept a Speedbag (option)
Wraparound side skirts
Storage
Large dorsal storage pocket
Stretch fabric left storage side pockete
Adjustments
Shoulder straps length adjustment
Chest strap width adjustment
Backrest adjustment
Leg straps length adjustment
Seat extension tilt adjustment
Seat depth adjustment
Materials
Fabric :
Polyester 100D RIPSTOP
Polyester 210D RIPSTOP
Straps :
Polyester 25mm and 28mm (1250 daN)
Polyamide 15 mm, 20 mm, 25mm et 40mm
Certification
Norme LTF
Norme EN
SIZES :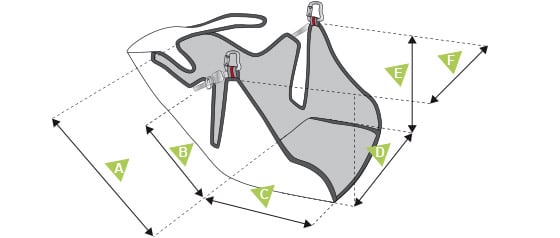 | | | S | M | L | XL |
| --- | --- | --- | --- | --- | --- |
| | Pilot size (cm) | 160 /175 | 165 /185 | 175 /195 | 195 /205 |
| | Pilot weight (mini – maxi) (kg) | 50 – 75 | 60 – 90 | 70 – 100 | 80 – 120 |
| | Harness weight STANDARD VERSION (g) | 3600 | 3750 | 3900 | 4050 |
| A | Backrest height (cm) | 56 | 65 | 70 | 75 |
| B | Reclined seating height (cm) | 37 | 38 | 39 | 40 |
| C | Seat length (cm) | 44 | 47 | 49 | 51 |
| D | Seat width (cm) | 33 | 35 | 37 | 39 |
| E | Carabiners height (cm) | 44 | 44 | 44 | 44 |
| F | Distance between carabiners (cm) | 39 – 50 | 39 – 50 | 39 – 50 | 39 – 50 |