DELIGHT 3
LIGHTNESS, OPTIMISED PASSIVE SAFETY & STEERING PRECISION
The Delight 3 is a lightweight cross-country Harness designed for pilots who want a lightweight, precise piloting model with optimized passive safety. The Delight 3 takes the success of the Delight 2 and effectively improves back support, safety and accessorization.
Weight: 3700 g (in size M)
Frequency
OCCASIONAL

REGULAR

PROFESSIONAL
Level
NOVICE

INTERMEDIATE

SEASONED
ABOUT THE DELIGHT 3
The Delight 3 is more cross-country and performance-oriented than its predecessors. The structure is stiffer, the lumbar support is still a very present and continuous plus, the flight behavior is precise.
The closure of the harness is done by two automatic buckles (Cobra): simplicity, ease, and safety. The closing of a single loop secures the pilot's attachment.
On take-off, the run is easy (light harness with leg straps), and the sitting and the installation in the speedbag are obvious. The structure of the harness at leg straps with removable mini seat plates allows clean and precise flying feel.
High passive safety: A new BUMPAIR 16STK provides excellent crash test results. Autostability of the leg straps allows a good overall balance of the harness. The closure of the harness by loops is easy and secure. A little extra: a branching kit is integrated in the harness.
The parachute pocket is completely closed with a zipper. The pocket is locked by two hidden rings: nothing gets caught, and everything is well closed and smooth on the harness.
A – DORSAL STORAGE POCKET
B – RESERVE PARACHUTE POCKET
C – BUMPAIR 16 STK
D – DORSAL PROTECTION (PLASTAZOTE)
SPECIFICATIONS :
STEERING
XC flying & competition
3/4 reclined sitting posture
For active and experienced pilots
SAFETY
Bumpair 16 cm STK
Dorsal reserve parachute pocket with right rescue deployment handle
Self-leveling leg split-leg system
Reserve parachute hooking safety system
30 mm Self-locking carabiners
25 mm aluminum self-locking (Cobra) buckles
GEAR / EQUIPMENT
Mini carbon fiber removable seat plate
Removable Speedbag
Speedbag foot-rest (carbon fiber plate)
3 lt. integrated speedbag instrument cockpit with two lanyards
Self-centering double stage speed-bar
29 mm Harken pulleys
Velcro® and shoulder sleeves (mic attachment, mini variometer)
Pre-equipped for a hydration system (Hydro)
STORAGE
Large dorsal storage pocket
Lateral zipped pockets on the Speedbag
Inner side radio pocket
Under the seat storage/ballast pocket
ADJUSTMENTS
Safe-T strap
Speedbag length and incline adjustments
Shoulder straps length adjustment
Chest strap width adjustment (stability)
Backrest tilt adjustment with additional lumbar support
MATERIALS
Nylon 210D Ripstop
Nylon 210D Honeycomb
CERTIFICATION
LTF
EN
MEASURES :
SUPAIR DELIGHT3 – XC HARNESS
TEST DELIGHT3 – FLYBUBBLE
SECURITY:
A – STORAGE BACK POCKET
B – RESCUE PARACHUTE POCKET
C – BUMPAIR 16 STK
D – PLASTAZOTE BACK PROTECTOR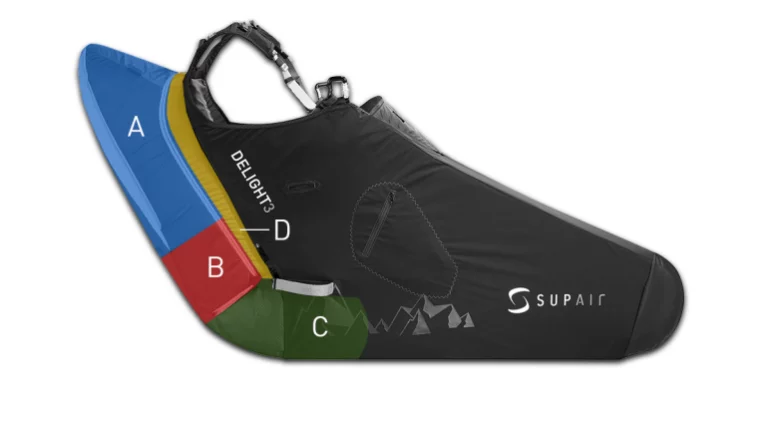 Technical Data
| | S | M | L | XL |
| --- | --- | --- | --- | --- |
| PILOT HEIGHT (CM) | 150/170 | 165/185 | 180/195 | >195 |
| PILOT'S WEIGHT (MINI-MAXI) (KG) | 50-65 | 60-85 | 75-105 | 90-115 |
| WEIGHT OF THE HARNESS (COMPLETE AS DELIVERED) (G) | 3650* | 3700* | 3850* | 4050* |
| BACK HEIGHT (CM) | 58 | 65 | 72 | 76 |
| HEIGHT OF BACKREST TILT ADJUSTMENT (CM) | 33 | 37 | 41 | 43 |
| DEPTH OF SEAT (CM) | 45 | 45 | 45 | 49 |
| WIDTH OF SEAT (CM) | 35 | 35 | 37 | 37 |
| HEIGHT OF ATTACHMENT POINTS (CM) | 45 | 45 | 47 | 47 |
| DISTANCE BETWEEN ATTACHMENT POINTS (CM) | 38-45 | 38-45 | 40-46 | 42-48 |
| LENGTH SPEEDBAG (CM) | 83 | 88 | 93 | 98 |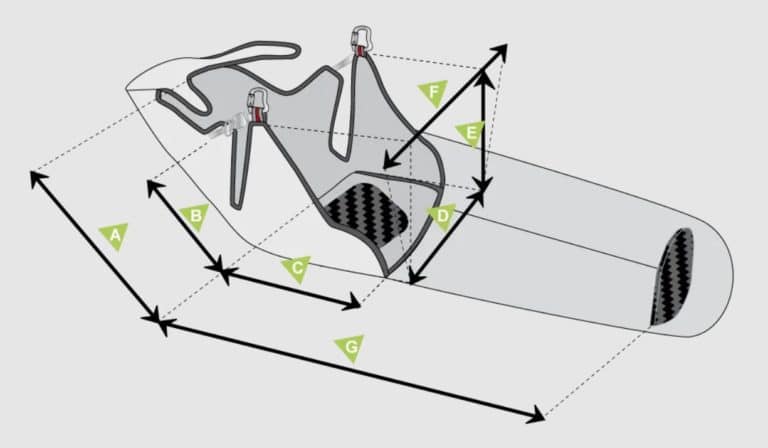 *Harness, back protection, bump, seatplates seat carbon and seatplates carbon feet
This harness is delivered with the following accessories :
2 black self-locking SUPAIR 30 mm Zicral carabiners
BUMPAIR 16 STK
40 mm dorsal protection
Speedbag accelerator 2B STD
Mini carbon fiber seat plate 30*22
Speedbag carbon fiber foot-plate
User's manual (CD)
SUPAIR solo Dyneema reserve parachute bridles
1 threaded aluminum  Grivel "Plum"
OPTIONS (DELIVERED WITH THE HARNESS) :
Safety lanyard
Dyneema riser
SPARE PARTS :
Reserve parachute handle with rescue pod