Loco – #Wackyracer
Marvin was waiting for his friend at the landing zone. He looked up and admired the fauna buzzing around: huge tandem wing, high aspect-ratio glider, potato-shaped school wing… and then he spotted his friend.
Alex looked like a mosquito, thermalling in the middle of the others. Marvin couldn't wait to hear what he has to say about the Loco.
Once landed, his face said it all. "Man! That was… loco!"
Alex was grinning as he stuffed the tiny glider in his rucksack.
-"What about the acceleration? Did you push the speed-bar?"
-"Of course, I did! First bar, I was like, OK that's nice. Second bar, I felt the speed much more and that was exhilarating. But when I pushed the last bar, man! That was awesome! Never felt that fast before, even with my comp wing, this is totally crazy!! Man! What is that glider?!"
Marvin was driving home. He was thinking of the Loco. Two-liner, 16m2, EN-C. What else? That was huge. He saw all the possibilities: soaring on the seaside, speed reserve in high mountains and so many different ways to have fun! You tick such a lot of boxes with the Loco, because you cannot put it inside of any. "The Loco is running from boxes and blowing them up" he thought.
Once at home, he sat on the couch, turned on the TV. There was this old cartoon show, named "Wacky races". The Red Max was grappling with the Mean Machine. What was the Loco? Well, it definitively was a wacky racer.
Loco – Catch me if you can!
What's new?
"For every AD wing, we use a claim and a hashtag. For the Loco, we chose Catch me if you can and the #wackyracer. The Loco is my latest crazy invention! It could be presented as the son of SuSi and Volt, a combination of the Volt 4 2-liner concept which provides performance, stability, and maximum speed with the simplicity and handling of the SuSi. Simply said, it is a 2-liner SuSi."
Stephan Stielger
Designer
Did you know?
Stephan had never been told it was impossible, so he made it.
Gliding at 70km/h full bar, full load, the Loco is the fastest certified glider ever designed by Stephan. But what is it for? Wind soaring, thermalling, proximity flying, by the sea, in the mountains,… You'll tell us!
Construction and features
– Double coated Skytex, doubled seams, and edging tape: robustness is the key
– Superlight Dyneema risers, unsheathed but color-coded lines (Aramid, Edelrid 8001U)
– XC high performance Two-liner internal structure (derived from the development of the Volt 4)
– Full-length top-surface Nitinol rods
– Low drag thanks to a reduced total lineset, you will hear your lines whistling!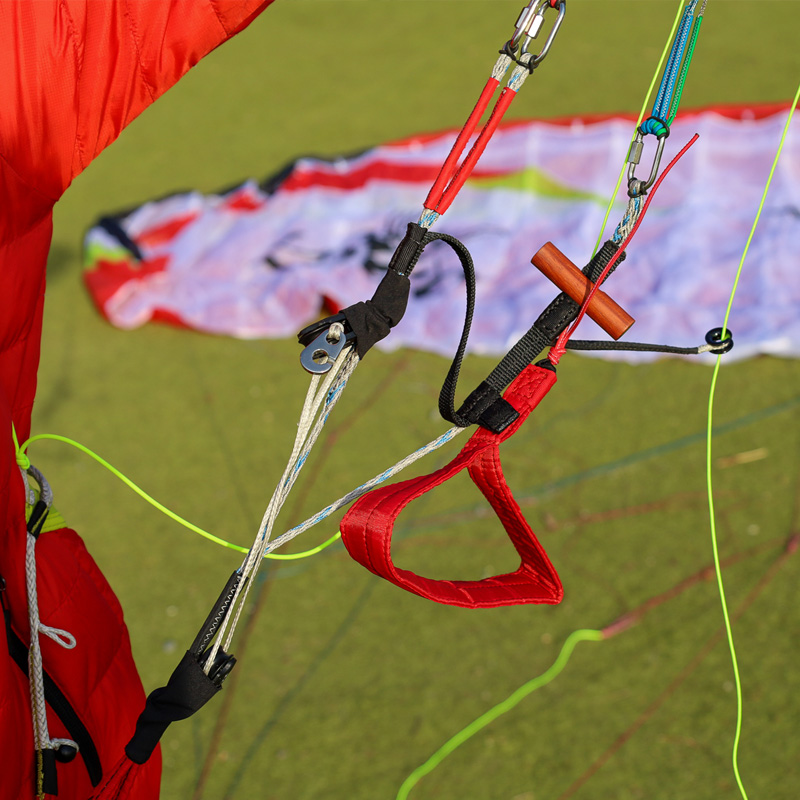 Technical Specifications & Colors
The Loco is a 16m2 two-liner, EN-C certified. What else? The Loco is a glider that does not fit in a box but that you can bring wherever you go, just don't forget to close your mouth when pushing the speedbar.
Glider
Goodies
Repair Materials and AirDesign Stickers